Shibburn crypto tracker has reported that over the past 24 hours, the Shiba Inu community managed to get rid of a staggering amount of meme tokens, pushing the burn rate high up. During the last 24 hours, the price of Shiba Inu has risen by 3.27 percent after a slight pull-back.
Burn rate soars this high
According to data provided by the Shibburn website, during the period of the past 24 hours, the burn rate of SHIB rose by 1,433 percent. This happened after a total of 202,401,383 Shiba Inu meme coins were locked in dead wallets for good. On Thursday, the SHIB army was able to remove only 8,209,953 meme tokens. Details from the aforementioned website show that an anonymous wallet -9c253 burned a 136,221,189 SHIB lump in a single transaction. Three chunks of 2,600,000 SHIB were sent to an unspendable wallet from a -9e214 address. Then another wallet joined in, burning 55,687,745 SHIB.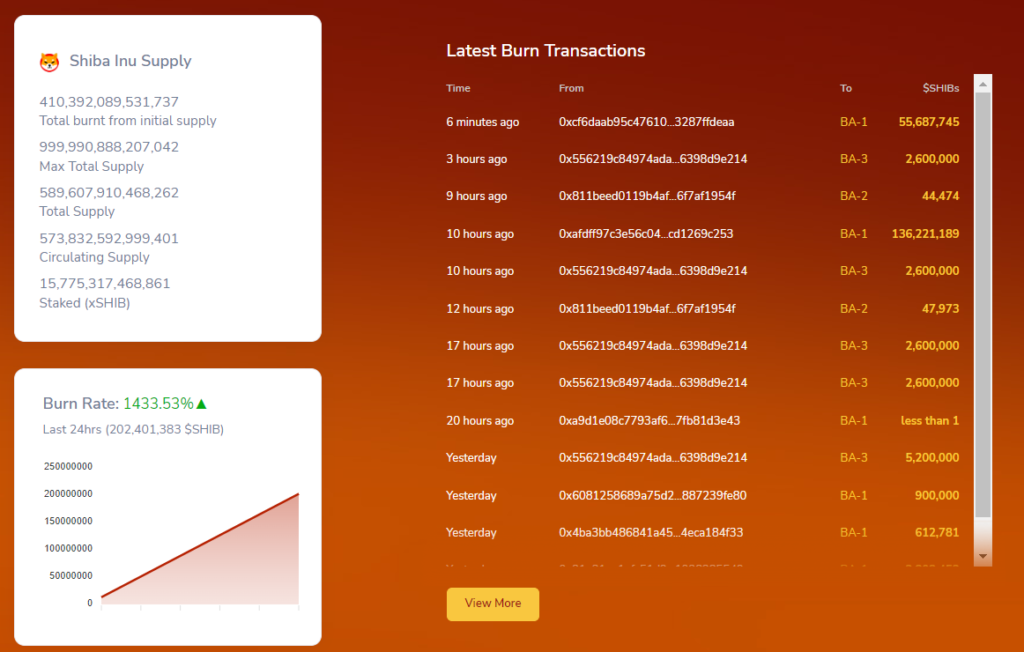 At the same time, yesterday it was reported that the Shiba Inu network saw a 700 percent rise in transactions. The increased activity here was also reflected in the rising burn rate. Overall, a new milestone related to the number of total transactions was spotted on the Shibarium testnet (Puppynet) yesterday as well – this number surpassed 1 million transfers, according to the data from BlockScout. Puppynet release took place on March 11, so it took only 20 days to surpass the one million-milestone.
Massive accumulation of SHIB continues
A few days ago, a whale calling himself "BlueWhale0073", who is ranked 254 by the WhaleStats tracker, acquired 99,297,904,247 Shiba Inu, paying $1,058,515 for that chunk of meme coins. The whale sold it almost immediately, speculating on the price fluctuations of SHIB and pocketing healthy profit after a small SHIB rise. This happened as Shiba Inu remains the most-traded token for the 100 top whales on Ethereum and also the largest crypto asset in the USD equivalent held by them, per data from WhaleStats.